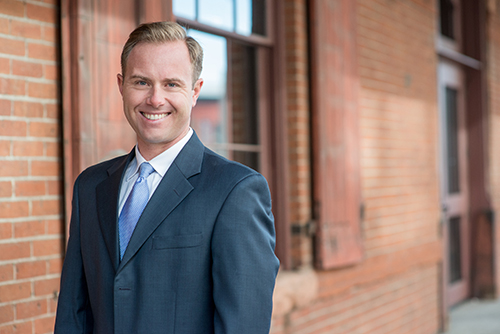 Email: cmeyer@messner.com
As part of the firm's Litigation Practice Group, Mr. Meyer focuses on trial advocacy and the representation of individuals, insurance companies, and business entities in courts of law, arbitration, mediation, and other regulatory proceedings. He has litigated and tried numerous cases including matters involving complex commercial litigation, medical/healthcare claims, insurance coverage, insurance bad faith, construction defect, employment, catastrophic personal injury, general liability and contract.
Mr. Meyer also takes an active role in the legislative process on behalf of the civil defense industry by helping to craft and amend proposed legislation to protect individual and business interests in the community and enhance the ability of clients to successfully litigate civil claims.
A former collegiate student-athlete captain, with experience in professional athletics, Mr. Meyer translates the principles of leadership, teamwork, dedication and commitment to his representation of clients while offering client-based solutions to conflicts, but with the advocacy skills necessary to resolve disputes in courts of law.
University of Denver, College of Law, J.D., 2002
University of California, Los Angeles, B.A./B.S. Political Science, 1997
American Board of Trial Advocates
Colorado Defense Lawyers Association – Board of Directors, Legislative Committee
National Association of Fire Investigators (NAFI)
Claims and Litigation Management Alliance
Risk Management Society
Nevada Bar Association
Colorado Bar Association
Denver Bar Association
Accreditations:
Certified Fire and Explosion Investigator (CFEI)
Presentations:
June 2016 Risk Management Society, Nevada – June Hot Topic Session – "Medical Marijuana Use and the ADA – A New Intersect"
July 2016 Colorado Defense Lawyers Association Annual Conference, Snowmass, CO – "War Stories: Working with the Court – Motions, Hearings, and Trial"
January 2013 – Testimony on behalf of Colorado Defense Lawyers Association, Colorado Senate Judiciary Committee
January 9-10, 2013 – State Farm Mutual Automobile Insurance Company, Claims Department Seminar/Training – "Billed v. Paid and Reasonable Value"
July 2012 – Colorado Defense Lawyers Association Annual Conference, Crested Butte, CO – "Billed v. Paid – Where Do We Go From Here?"
October 2012 – State Farm Mutual Automobile Insurance Company Defense Counsel Seminar – "Billed v. Paid and Evidence of Reasonable Value of Medical Services"
November 2012, Law Week Radio – "Rogue Clients"
2009, 2010 – University of Denver , College of Law – Guest Lecturer, "Issues Involving Psychiatry and the Law" – Dr. Richard Martinez
August 2013, Colorado Defense Lawyers Association Annual Conference, Beaver Creek, CO- "All-Payer Claims Database: What It is and Why It's Important"
August 2013, Colorado Defense Lawyers Association Annual Conference, Beaver Creek, CO- " Billed vs. Paid Update"
Publications and Speaking Engagements
Sunahara v. State Farm Mut. Auto Ins. Co., 280 P.3d 649 (Colo. 2012)
Davis v. GuideOne Mutual Ins. Co., 2012 COA 709 (2012)
Garcia v. Mekonnen, 156 P.3d 1171 (Colo.App. 2006)
Community Involvement
Volunteer Organizations
Regis Jesuit High School – Board of Trustees, Advancement Committee, Alumni Council
Colorado Storm Youth Soccer Association – Coach
Professional Experience
John R. Rodman & Associates, Associate, 2002-2013
18th Judicial District – Office of the District Attorney, Intern, 2001-2002
University of Colorado, Office of General Counsel, Intern, 2000-2001
Qwest Digital Media, Legal Counsel, Intern, 2000-2001