Any sort of legal situation can be stressful, but when a business owner finds that the company they operate is on the receiving end of a lawsuit, the term "stressful" barely covers the reaction they may experience. You know the feeling if you're currently in this situation.
However, there are a few defense strategies you can follow in order to ensure that the case concludes in the best way possible for you and the business you represent.
#1 — Contact a Business Litigation Attorney
If your business is involved in a lawsuit, the first thing you need to do is get in touch with a business or commercial litigation attorney. Having expert representation is of utmost importance as you navigate the legal process ahead. Working with a lawyer can help to ensure the most favorable outcome for everyone involved in the case.
#2 — Contact Your Insurance Agent
Review your company's insurance policy to determine whether you're covered in the event of a lawsuit. Afterwards, call your insurance agent and discuss the steps you need to take in order to proceed as carefully as possible. Complex commercial litigation will likely require far more than presenting the court with copies of your policy, but it's beneficial to be aware of any assistance you may be entitled to from the insurance company.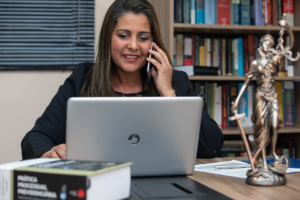 #3 — Don't Contact the Other Party Directly
This is incredibly important: if you have received a legal notice that informs you that your company is involved in a lawsuit, avoid directly reaching out to the other party. Because the lawsuit has already been filed, there is very little that you can do in the way of attempting to resolve the issue personally.
If you need to contact the other party for any reason, correspondence needs to take place through the business dispute lawyers handling the case.
#4 — Keep All of Your Documents Organized
Keeping all of your company's important documents organized and accessible is a practice all business owners should follow, regardless of whether they're involved in a lawsuit. This way, commercial litigation cases can be handled with a little more simplicity than what would be possible with missing documents. Even if the documents in question suggest or even prove wrongdoing on your part, do not intentionally suppress or destroy them.
Present everything that your attorney asks for when you're preparing for the case to proceed.
If your business is being sued, it's essential that you take the right steps throughout the case's proceedings. Working with an attorney is crucial in these situations, so if you don't have legal representation yet, contact Messner Reeves right away. Our commercial litigation law services can help ensure that you reach the best resolution possible upon the conclusion of your case.