Messner Reeves LLP is pleased to announce that Of Counsel Alyson "Aly" Jaen received Law Week Colorado's 2022 Barrister's Best People's Choice award for "Best Marijuana Lawyer." The People's Choice award is reserved for attorneys who score highly on peer reviews within their practice area.
About Law Week's Barristers Best Awards
According to Law Week, its annual awards issue lists "the most prominent, highest performing, and well- established lawyers" in Colorado. "We believe that when it comes to finding the best lawyers, it takes one to know one." The People's Choice awards echo the high esteem of peers and colleagues in the Colorado legal industry. As a result, readers' poll winners receive the People's Choice awards, and staff selections receive Barrister's Choice awards.
For 2022, Law Week Colorado received 290 responses to their Barrister's Best community survey submitted by other Colorado lawyers and legal professionals. They profile "People's Choice" and "Barrister's Choice" selections in about 50 areas of Colorado legal practice. The Barrister's Best coverage includes a list of the top Colorado attorneys selected by their peers and Law Week Colorado's "Barrister." The list of lawyer categories and recognitions is available in Law Week Colorado's Oct. 24 issue.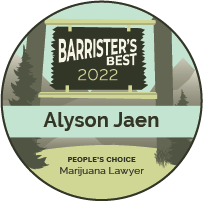 Aly Jaen Receives 2022 Barrister's Best People's Choice "Best Marijuana Lawyer
Attorney Aly Jaen focuses her practice on cannabis law and advises clients concerning cannabis licensing and regulatory compliance matters, including representing them before the Colorado Marijuana Enforcement Division, the Denver Department of Excise and Licenses, and other local regulatory agencies. This accomplishment is no surprise to us as she's the definitive "new but notable" lawyer – already recognized in 2020 and 2021 on Best Lawyers "Ones to Watch."
Aly is a member of the Colorado Bar Association – Cannabis Law Section, the Denver Bar Association, and the National Cannabis Industry Association. She is an expert in several aspects of the legal cannabis market, including the federal enforcement risks in legal cannabis markets. Having served as legal counsel for existing businesses and advising public and private companies on operating in the cannabis space, she is committed to compliance.
Congratulations on this high honor, Aly! We look forward to your future accomplishments and accolades from serving Messner Reeves clients.
About Messner Reeves
Messner Reeves LLP is a national law firm with over 100 attorneys in various states, including Nevada, California, and Arizona. We focus on corporate litigation, medical malpractice, real estate, hospitality, and many other areas of law. For over 25 years, we have assisted legal clients in achieving their desired outcomes.