Messner Reeves is excited to announce the induction of Bruce Montoya into the International Academy of Trial Lawyers (IATL).
Partner Bruce Montoya Inducted into the Prestigious IATL
As a national commercial law firm, Messner Reeves has many highly successful and decorated attorneys on our litigation and trial team, led by Bruce Montoya. Mr. Montoya was recently bestowed with one of the most prestigious recognitions any trial lawyer could receive; admission into the International Academy of Trial Lawyers (IATL).
Many young and senior attorneys have had the privilege of learning the skill of trial practice from Mr. Montoya. He has now been recognized as one of the best in the world, and we can think of no one more deserving. We couldn't be prouder to have him on our team.
"It is difficult to overstate the impressiveness of this recognition. Not only is it an honor that reflects years of quality, professionalism, and service, but it is a testament to legal greatness, which is measured by a career of consistency and performance." – Caleb Meyer, CEO and Chief Managing Partner, Messner Reeves
About IATL
Chartered in 1954, the Academy's general purposes within the legal profession are to:
Cultivate the science of jurisprudence
Promote reforms in the law
Facilitate the Administration of Justice
Elevate the standards of integrity, honor, and courtesy
Inclusion into the Academy is highly selective as the IATL limits its membership to only 500 fellows from the U.S. and admissions from other countries worldwide at one time. They reserve memberships for trial attorneys who demonstrate skill and ability in jury trials, other court trials, and appellate courts. In addition, members of the IATL must engage in civil practice representing both plaintiffs and defendants, as well as criminal trials.
Only attorneys who have achieved the highest level of advocacy are extended an exclusive invitation to the IATL. Their comprehensive screening process uses both peer and judicial review. Those included in the IATL receive recognition as one of the best trial lawyers worldwide.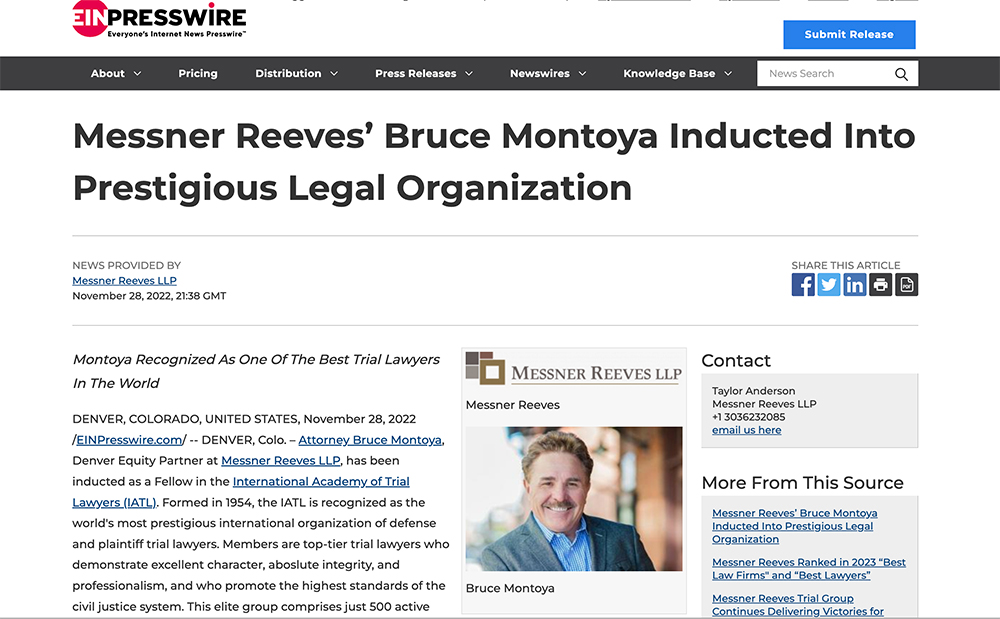 About Bruce Montoya
Denver Equity Partner Bruce Montoya heads the Trial Practice Group at Messner Reeves, with nearly 40 years of experience as a trial lawyer. He has been involved in over eighty trials and arbitrations. He is also well-known for successfully defending numerous complex civil litigation matters, including high-exposure and class-action cases.
One of the keys to Mr. Montoya's and the entire Messner Reeves team's success is avoiding cookie-cutter legal approaches. Instead, they know that each client and circumstance is unique and deserves immense attention to detail to achieve the best outcome possible.
Other awards and accolades Mr. Montoya has earned include:
American Board of Trial Advocates
International Society of Barristers
Best Lawyers 2023- Medical Malpractice Law – Defendants
Best Lawyers 2023- Personal Injury Litigation – Defendants
Best Lawyers – 2022
5280 – Top Lawyers of 2022
Lawyer of the Year Medical Malpractice Law – Defendants, Denver (2021), Medical Malpractice Law – Defendants, Denver (2018), Medical Malpractice Law – Defendants, Denver (2016)
Super Lawyers, 2006 to present
Denver Post Lawyer of the Year, 2018
About Messner Reeves
Although we've grown from our single initial office of five attorneys to multiple national offices and over 100 attorneys, our entrepreneurial spirit and drive remain. Throughout the 25-year history of Messner Reeves, we've always believed that success or recognition for one of our attorneys is one for our whole team.
We celebrate and encourage individual and group accomplishments and awards within our cooperative culture. Without teamwork, Messer Reeves wouldn't be the high-caliber, nationally recognized go-to law firm we are today. Whatever your commercial litigation legal matter or medical malpractice case might be, our highly experienced, knowledgeable attorneys can help. In addition, we aren't afraid to think outside the box when finding creative solutions to your legal dilemmas.
Congratulations, Bruce Montoya, on this noteworthy IATL inclusion! We are very proud of all your accomplishments and the successes you have brought to the Messner Reeves team.