Real estate leases can be complicated at the best of times, but commercial real estate leases can include additional clauses and considerations when it comes to drafting an adequate lease. To ensure that you have an airtight commercial real estate lease, it's in your best interest to work with an experienced commercial real estate attorney.
Read on to learn more about why that is.
Commercial Leasing Elements
Handling the creation of a residential real estate lease is one thing, but it certainly does not equip property owners with all of the skills they need to embark upon designing a commercial lease. Legally, there are quite a few differences between a commercial real estate lease and a residential one.
For example, commercial real estate leases are usually covered by fewer protection laws, such as the regulation of security deposits and tenant rights, which are a standard part of the residential landscape.
Residential real estate leases can usually be somewhat unique depending on the property and tenant involved, but making quick customizations to a commercial real estate lease is more complicated than simply changing a few words on paper. That said, there is a great deal of customization involved in the creation of commercial real estate leases. They just are not as easy to adjust as other contracts.
Further, when a landlord offers commercial property for lease, the contract is usually a long-term one. This means that each element of the contract needs to be accurate and acceptable from the start.
Finally, commercial real estate leases are usually prone to significant negotiations before the contract is signed. During this process, so much can go wrong, and if both parties want to ensure that they're protected, it's crucial to have an attorney draft the documents.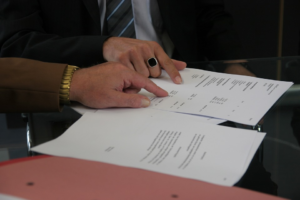 Commercial Real Estate Attorneys
An experienced commercial real estate attorney has perfected his or her practice and knows the ins and outs of commercial real estate contracts. They are familiar with lease terms, maintenance clauses, build-out situations, liability, subleasing information, and exclusivity sections that are included in standard commercial contracts. As such, a lawyer can draft lease agreements that protect both parties and prevent the need for real estate litigation to occur.
If you're either a commercial landlord, a tenant seeking commercial space, or an investor interested in commercial real estate lending, it's in your best interest to contact a lawyer with years of experience in the commercial real estate industry.
At Messner Reeves, our attorneys are equipped to handle myriad commercial real estate situations, including the creation of clear, concise contracts that protect both parties against financial losses. Contact our office at your convenience to schedule a consultation with an expert commercial real estate attorney.