Messner Reeves proudly announces several 2023 Best Law Firm recognitions by U.S. News – Best Lawyers®. Three of these honors went to our Colorado offices, two to our Las Vegas office, and three went to our Phoenix office.
While we are genuinely honored to receive these recognitions, our purpose is not to receive awards or accolades but to represent our clients in the best way possible to achieve the outcome they deserve, no matter their legal issues. Therefore, receiving high honors from nationally and internationally recognized and respected reference organizations are the natural result of our efforts for our clients.
What is Best Lawyers?
Best Lawyers is a publication recognizing "who's who" among lawyers and law firms by location and practice area. It's a highly relied-upon reference for prospective clients seeking legal help. Recognitions are awarded by a peer review process and cannot be purchased.
Now in its 13th edition for 2023, Best Lawyers Best Law Firms recognized 15,825 law firms with a ranking across 188 metropolitan areas and 127 legal practice areas. Tier 1 metropolitan rankings went to 9,787 law firms, and nationally, 571 law firms were honored with Tier 1 awards in 75 practice areas. 
The "Best Law Firms" recognition is an award system using qualitative and quantitative data obtained during submission. To be eligible for Best Law Firms recognition, a firm must have at least one attorney recognized in the current edition of Best Lawyers in a "Best Law Firms" ranked by practice or metro area. Several Messner Reeves attorneys have recently bestowed such a recognition, helping to pave the way for the firm's Best Lawyers recognitions.
Eligible law firms are invited to participate in the submissions process annually through law firm surveys and client and professional reference submissions. Data from all sources is considered with overall firm feedback from the individual Best Lawyers ballots to reach a cumulative score. Scores are categorized into Tier 1, 2, and 3 rankings. All rankings reflect the highest-level feedback a law firm can receive, demonstrating the best in the U.S. legal industry.
Law firms with rankings are recognized for professional excellence and integrity with continuous impressive ratings from their peers and clients, revealing an exclusive blend of quality legal practice and scope of legal expertise. In addition, receiving a tier designation echoes the high level of respect a firm has earned among other leading lawyers and clients within their communities and the same practice areas.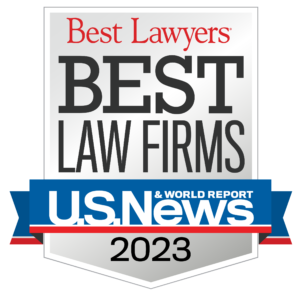 Messner Reeves Recognized with Five Tier 1 Rankings and Three Tier 3 Rankings
Messner Reeves is pleased to share that we received the following rankings in the 2023 edition of Best Law Firms:
Colorado
Tier 1 in Medical Malpractice Law – Defendants

Tier 1 in Personal Injury Litigation – Defendants

Tier 1 in Real Estate Law
Las Vegas
Tier 1 in Litigation – Health Care

Tier 1 in Litigation – Insurance
Phoenix
Tier 3 in Construction Law

Tier 3 in Employment Law – Management

Tier 3 in Litigation – Intellectual Property
We extend a huge congratulations to our Colorado, Las Vegas, and Phoenix offices on these exciting awards! These recognitions culminate countless hours of teamwork amongst our esteemed attorneys. In addition, we are proud of the hard work and dedication our attorneys and support staff from every office across the nation have shown, not just in achieving these Tier 1 and Tier 3 level awards but through the results they obtain for our clients every day.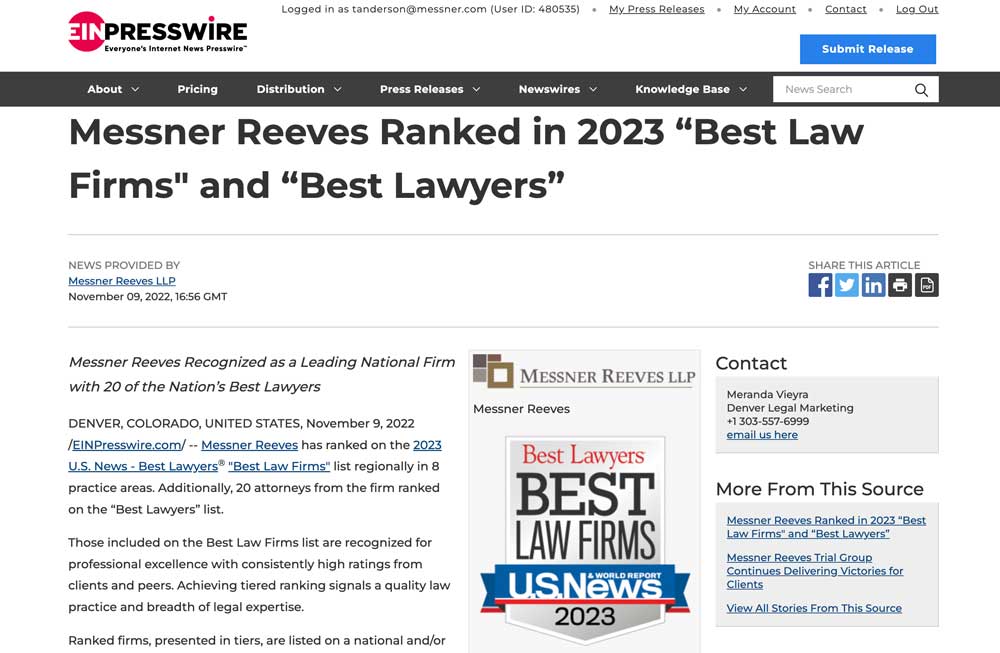 About Messner Reeves
For more than 25 years, the attorneys at Messner Reeves LLP have provided unmatched legal services to countless clients across dozens of legal niches. From our modest beginnings of five attorneys in a Denver office to over 100 attorneys across ten offices from coast to coast, we've never lost sight of our values and culture. Two of the only things that have changed in over two decades since we opened our doors are our location and size. 
While we are pleased to receive these Best Lawyer recognitions for 2023, we remain focused on one thing: delivering world-class legal services to our clients across the nation. So whether you need a strong defense team to defend a medical malpractice claim, a well-versed real estate attorney to review or negotiate a contract, a knowledgeable lawyer to help you obtain a liquor license for your restaurant, or anything in between, Messner Reeves is here for you. Contact us today to learn more about how we can help.