Messner Reeves recognizes Denver partners Douglas C. Wolanske and Kate A. Bailey for their recent win in a seven-day medical malpractice trial involving a plastic surgeon.
Overview
Attorneys: Douglas C. Wolanske and Kate A. Bailey

Office: Denver

Venue: Colorado District Court
In this civil matter, the defendant, a plastic surgeon, was represented by Douglas C. Wolanske and Kate A. Bailey. The plaintiff, represented by Adam David Dolce, alleged that the defendant over-dissected her pectoralis major muscle during breast augmentation surgery. Furthermore, she alleged that he failed to timely diagnose the complication, causing her significant pain, emotional distress, and physical limitations. The plaintiff alleged damages of $328,000, although neither party made any pre-trial demands or settlement offers. 
The Messner Reeves defense team, along with the help of medical expert Constantino Mendieta, M.D., F.A.C.S., F.I.C.S. of Miami, FL, were able to prevail in this case by showing the court that:
The surgery was performed well within accepted standards of care

The surgeon did not over-dissect the plaintiff's pectoralis major muscle during the surgery

The plaintiff's complaints arose from the development of capsular contracture— a well-known complication of breast augmentation surgery.
The Honorable Judge Regina M. Rodriguez presided over this trial, which resulted in a defense verdict. 
Congrats to Douglas, Kate, and their entire team on another successful trial win!
Messner Reeves Trial Group Continues Delivering Victories for Clients Press Release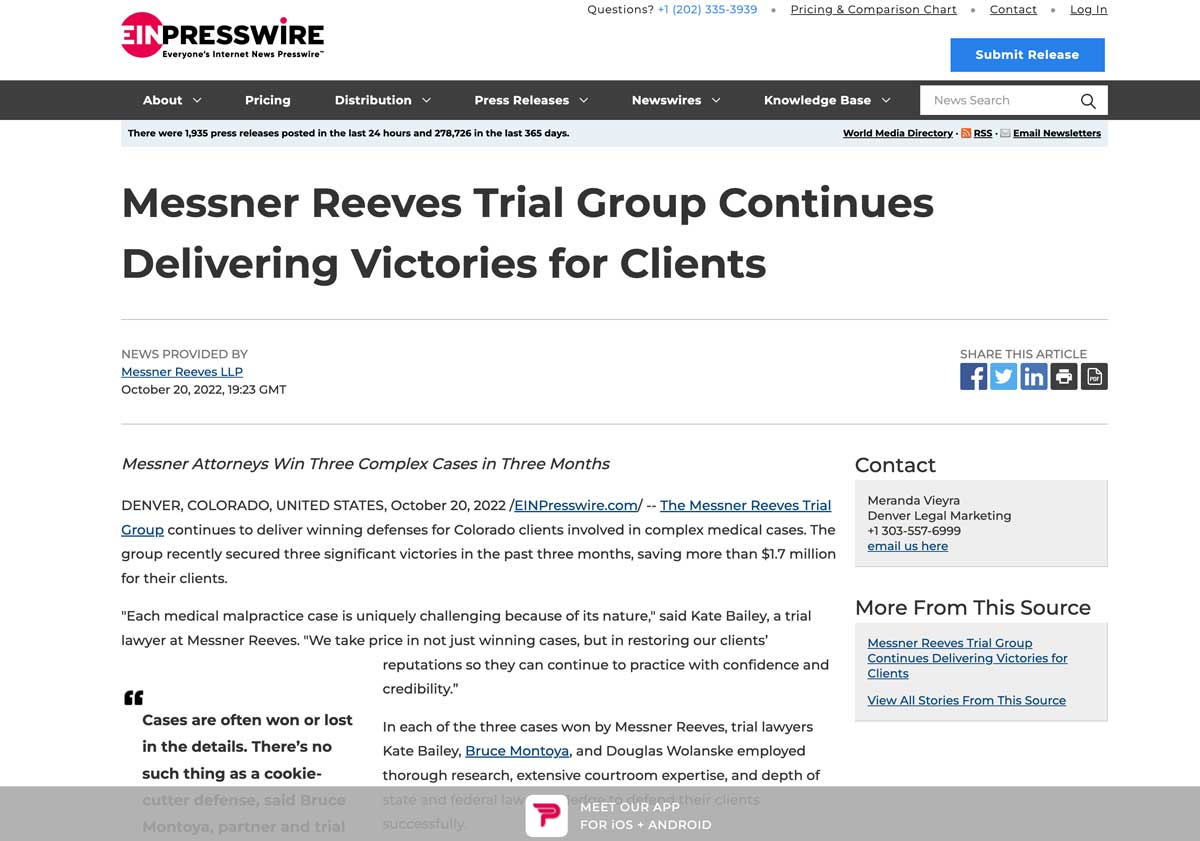 Learn More About the Legal Services of Messner Reeves L.L.P.
With dozens of highly experienced attorneys working out of 11 offices across the United States, Messner Reeves L.L.P. offers a wide variety of legal services to the professional and corporate communities. The firm is a top choice for litigation representation, including medical malpractice defense. Messner Reeves attorneys are well-known as some of the best legal advocates in their respective regions, securing excellent results in civil and commercial litigation matters. Learn more about how they can help you today.